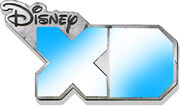 Disney XD is an American digital cable and satellite television channel that is owned by the Disney Channels Worldwide unit of Disney-ABC Television Group, part of the Disney Media Networks division of the The Walt Disney Company. Aimed primarily at male pre-teens and teenagers 6–15 years of age, its programming consists of original first-run television series, current and former original series and made-for-cable films from sister network Disney Channel, theatrically-released movies, and live-action and animated programs from other distributors. The channel offers an alternate Spanish language audio feed, either via a separate channel as part of a package of Spanish television networks sold by cable and satellite providers or a separate audio track accessible through the SAP option, depending on the provider. As of August 2013, approximately 80,864,000 American households (70.81% of households with television) receive Disney XD.
Ad blocker interference detected!
Wikia is a free-to-use site that makes money from advertising. We have a modified experience for viewers using ad blockers

Wikia is not accessible if you've made further modifications. Remove the custom ad blocker rule(s) and the page will load as expected.